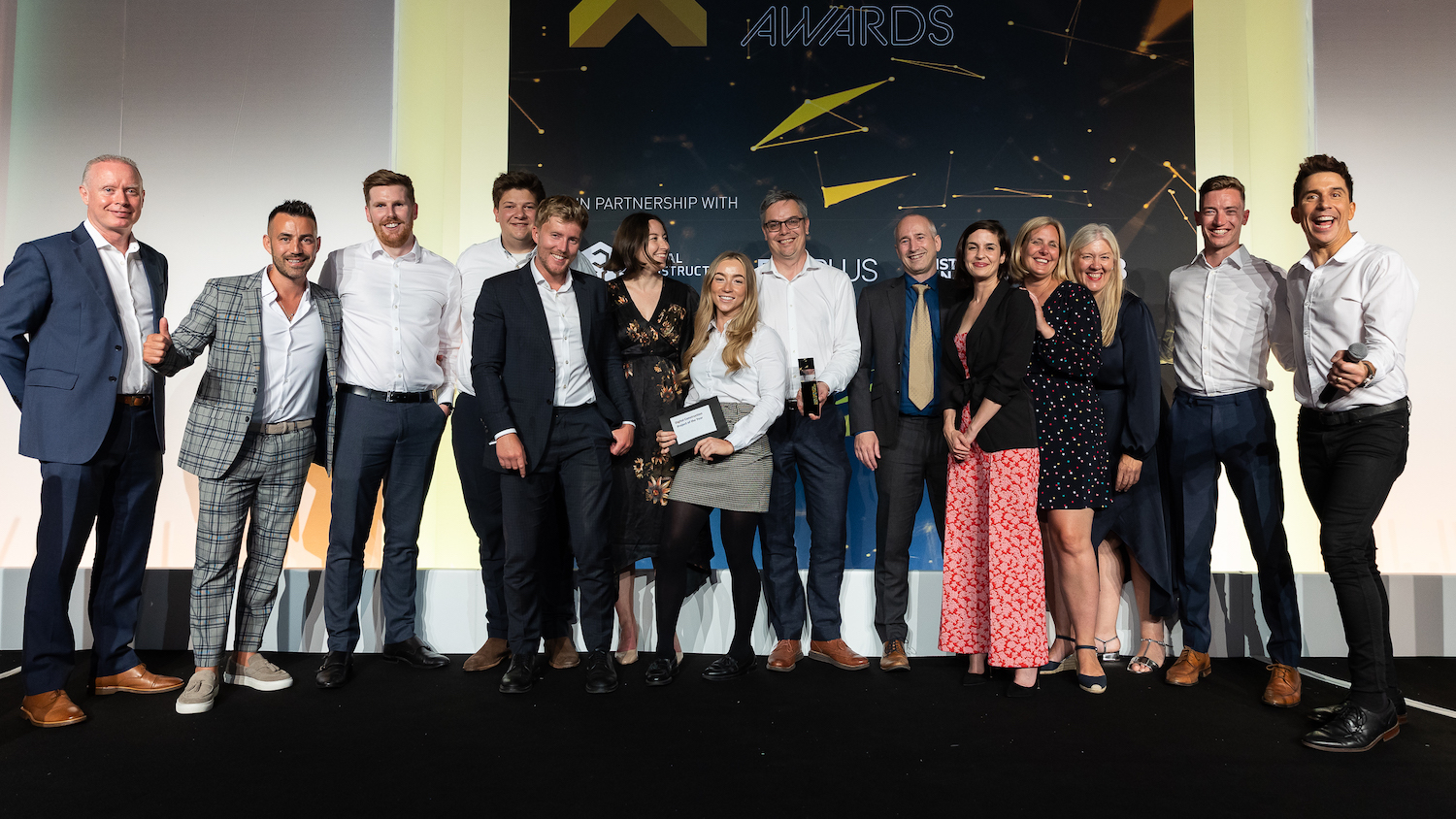 The Forge, on which Sir Robert McAlpine and Mace worked with client Landsec and designer Bryden Wood, was the clear winner of the Digital Construction Project of the Year category, sponsored by Revizto, at the Digital Construction Awards 2022.
Digital tech underpinned the "kit of parts" approach, known as platform DfMA (design for manufacture and assembly), on this £95m, 150,000 sq ft office development in Southwark, London.
As client Landsec's appointed MAM (manufacturing and assembly manager), main contractors Sir Robert McAlpine and Mace collaborated with architect Bryden Wood to deploy a huge range of digital tools on The Forge.
Disperse – 360 photo capture and automated progress-reporting using AI.
Converge – concrete strength monitoring, using live data from wireless sensors monitored by AI, which reduced strike times.
Qflow – monitoring of waste and deliveries, with real-time reporting of waste removal non-conformance.
Material tracking, with QR codes tracking the Comflor beams used in the frame construction.
iFire – a fire-stopping monitoring tool to ensure the fire integrity of the building with a clear audit trail.
Robotics – BIM models were linked to robotic welding machines to create temporary works kit.
"A comprehensive assessment of digital tools and their application for design, build and operations – a strong step forward for the sector. Very good people engagement with a focus on sharing this knowledge with the wider industry."
What the judges said
Other tools used included Datascope site access control, Dalux BIM model viewer for all project stakeholders and Glider's BIM asset information model, with trade contractors exporting their models to comply with required COBie outputs.
The MAM team, working with software vendors, provided training for all digital tools to staff and key trade suppliers. This has created a skills legacy within each organisation for future projects. The open-source data generated at The Forge means the learning from the digital tool suite can be analysed and shared across the wider construction industry.
The digital innovations and manufacturing-led approach meant that construction delivery required 20% fewer site operatives needed than for a traditional project.
The finished project achieved a 25% reduction in embodied carbon compared with the 'business as usual' design. The Forge becomes the first commercial building in the UK to be net-zero carbon both in construction and operation.
Angela Branch, project director for Sir Robert McAlpine, said: "I think it's a true joint venture – in terms of collaboration and working together. It's been a process of growth."
Nathan Barnes, commercial director for Mace, added: "It's been great the last few years working together. The R&D side of it was a bit frightening to be fair, but we worked together well, supported by Landsec."
Padraig Delaney, region digital construction lead for Sir Robert McAlpine, said: "Sir Robert McAlpine and Mace are two tier-one organisations that typically don't work with each other, but Landsec wanted us to collaborate to get the best ideas for innovation. They trusted us to deliver their innovation project, so we had to get the right culture embedded."
Digital Construction Project of the Year shortlist:
Advanced Research Centre, University of Glasgow | Multiplex, University of Glasgow, HOK Architects, WSP
East West Rail Alliance, Bletchley Flyover | Atkins, Laing O'Rourke, Network Rail, VolkerRail
Thames Gateway (Desalination) Recovery Project, MWH Treatment | Skanska, Balfour Beatty, Mott MacDonald, Thames Water
The Christie at Macclesfield | Vinci Construction
Transpennine Route Upgrade West | Network Rail, BAM Nuttall, Arup, Amey