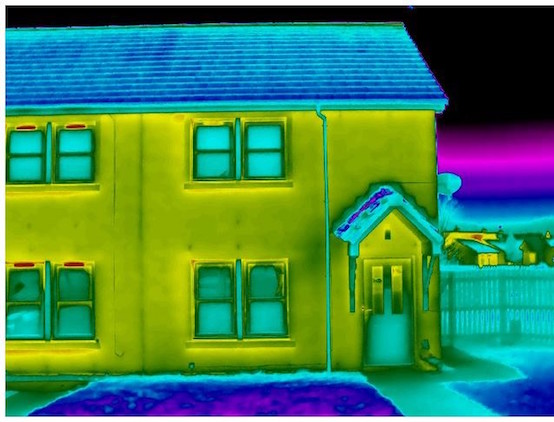 A Dundee-based thermal imaging specialist is developing AI technology to reduce heat loss in homes and support Scotland's net-zero strategy.
IRT, which identifies how housing developers and associations can make their property portfolio more energy efficient through thermal imaging data capture and analysis, will work with academics at Robert Gordon University to develop AI-based software to automatically remove redundant objects, including trees and cars, from its thermal image scans. This will save the organisation a significant amount of time each year in manual cropping.
The Data Lab, Scotland's innovation centre for data and AI, is providing funding.
IRT's current approach, which allows it to process and analyse thermal images to estimate the heat loss in homes, captures between 300-500 properties a day, but relies on staff to manually process and prepare images for analysis – which includes removing unwanted elements such as windows and doors (where currently reflections could be confused for heat loss), or neighbouring houses and cars.
Accelerating capability and decarbonisation
Thus IRT has turned to The Data Lab and Robert Gordon University to gain access to funding and the skills to develop an AI solution. The solution will allow the IRT team to accelerate its existing capability in the decarbonisation of the built environment, improving housing stock. This is in line with Scottish government policy to address fuel poverty and reduce greenhouse gas emissions.
Once the system is live (possibly by the end of this year), the pre-processing of images will be 10 times faster, allowing the IRT team to focus more of their time on analysing the processed data. As a result, customers will be able to understand the energy performance of their portfolio faster.
The solution will also allow IRT to develop a more detailed retrofit assessment for all properties processed, giving its customers better insight on their property portfolios, which could strengthen future retrofit funding applications through securing increased validity on the retrofit need and result.
Stewart Little, CEO at IRT, said: "Image cropping has become a very labour-intensive task for us, resulting in bottlenecks for our relatively small team. This has had a direct correlation on productivity as we can lose weeks of time as we crop hundreds of images a day.
"Once the software has been developed in partnership with the brilliant team at Robert Gordon University, our team will once again be able to focus on image analysis, which will increase the quality of service we provide our customers, as well as provide us with a competitive edge."