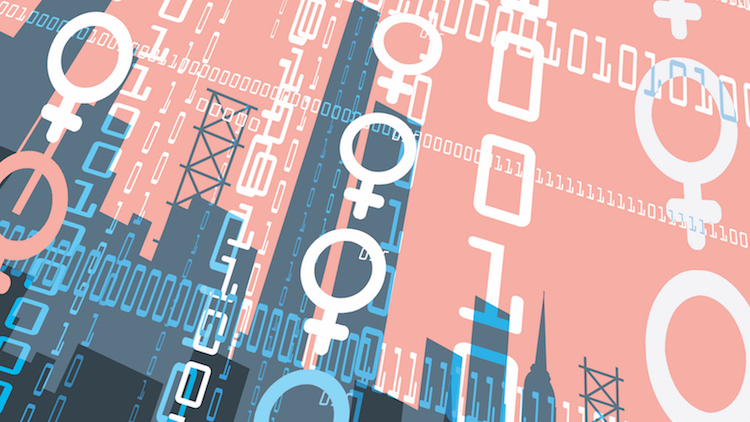 In our third feature marking International Women's Day, Women in BIM founder and global chair Rebecca De Cicco considers what must be happen for more women to take on digital leadership roles.
Decades of research leaves no doubt about the benefits of educating girls and young women broadly across all sectors. Education and knowledge underpin all that we do, from the way we work to the people we interact with and the direction we choose in our careers. A right to education is integral to virtually every aspect of human development, including economic growth and prosperity as well as personal satisfaction and value.
Globally, transformative gains in education for all have unfolded in recent decades. However, there are still countries where education is not accessible to all, specifically young women and girls. This is causing a huge economic and financial as well as social impact on the societies they live in.
The theme for International Women's Day this year, endorsed by the United Nations across Asia-Pacific, is DigitALL: innovation and technology for gender equality. This theme is extremely relevant to the work we do and the women we work with all over the world in the digital built environment and one I want to reflect on today.
"There are still great challenges in terms of how we encourage the retention of women in the built environment."
Rebecca De Cicco
As we gain traction in the number of women moving into these roles, there are still great challenges in terms of how we encourage the retention of women in the built environment more broadly.
The theme is aligned with the priorities established for the Commission on the Status of Women event (CSW-67), which is hosted to support representatives of UN member states and governments globally in our work toward a gender-equal future. The discussion at these types of global forums focus on the support and direct impact of innovation and technological change, as well as education in the digital age for achieving gender equality and the empowerment of all women and girls.
The United Nations observance of International Women's Day recognises and celebrates the women and girls who are championing the advancement of transformative technology and digital education. These themes begin to explore the impact of the digital gender gap on widening economic and social inequalities and have proven to support greater sustainability in regions of the world where they are at their highest.
It is absolutely imperative that the importance of protecting the rights of women and girls in digital spaces and addressing online and ICT-facilitated gender-based violence is also addressed as more women are confronted with these types of challenges.
The 2022 progress report on the UN Sustainable Development Goals and its specific focus on gender equality highlights the apparent lack of progress on some of the defined goals and how they are, and have been, addressed. A large gender gap continues in technology and innovation, despite recent improvements. There are some regions of the world where we have stepped even further backward, for example in the Middle East and northern Africa.
Women and girls are underrepresented in industries, academia and the broader technology sector as a whole, which is proving a challenge and providing great barriers to the evolution of industries. The report states that globally, women hold only two in every 10 science, engineering and information and communication technology jobs. At the 20 largest global technology companies, women were 33% of the workforce in 2022, but held only one in four leadership positions.
It can be proven that bringing women and other marginalised groups into technology sectors can result in more creative solutions and has greater potential for innovations that meet women's needs and promote gender equality. By contrast, excluding women from the digital world has shaved $1 trillion from the gross domestic product of low- and middle-income countries in the last decade. Without action, this loss will grow to $1.5 trillion by 2025, according to the progress report outlining some of these challenges.
Biased gender norms and stereotypes, embedded in curricula, textbooks, and teaching and learning practices, affect a girl's choice as to what to study in school, and ultimately, their careers and employment opportunities as adults. Globally, young women outnumber young men in tertiary education. Yet women are a minority of students in STEM education, at only 35%, and in information and communication technology studies, at just 3%.
Countries where girls are at the top of the mathematics skill distribution in lower secondary school have higher shares of women in STEM professions.
"It's not just about having influential women in industry, it's about ensuring they make their way to these roles, to become digital leaders."
Rebecca De Cicco
But overall, girls are steered away from science and maths careers. Teachers and parents, intentionally or otherwise, perpetuate biases around areas of education and work best "suited" for women and men. A 2020 study of Filipina girls showed that the loss of interest in STEM subjects started as early as age 10, when girls began perceiving STEM careers as male-dominated and believing that girls are naturally less adept in STEM subjects. The relative lack of female STEM role models reinforced such perceptions.
With this in mind, it is difficult to imagine that if barriers to entry did not exist, then we would be basically quite equal in terms of representation of women and men in digital roles, not only in the built environment but across all sectors. This almost forces me to start to focus on the behaviours of both women and men with their own children, and our educators, all of whom can start to influence decision-making at a very young age.
It's not just about having influential women in industry, it's about ensuring they make their way to these roles, to then be able to become digital leaders, regardless of the backgrounds they possess. The low number of women in digital leadership is effectively a by-product of the challenges noted above, but we can start to make real impact on our future by ensuring these types of barriers are addressed.
International Women's Day 2023 marks a critical turning point for women. It acknowledges where we, as 'digital leaders', are impacted and some of the reasoning as to why. However, I believe in influencing change and in impacting our future by allowing young women and girls to be exposed to, and linked to, women like me and some of the other leaders who work with us in digital construction and BIM.
I believe the future can be bright by addressing how we can ultimately change the perception, and begin to place more digital women as visible role models across all sectors, in all countries, all over the world.