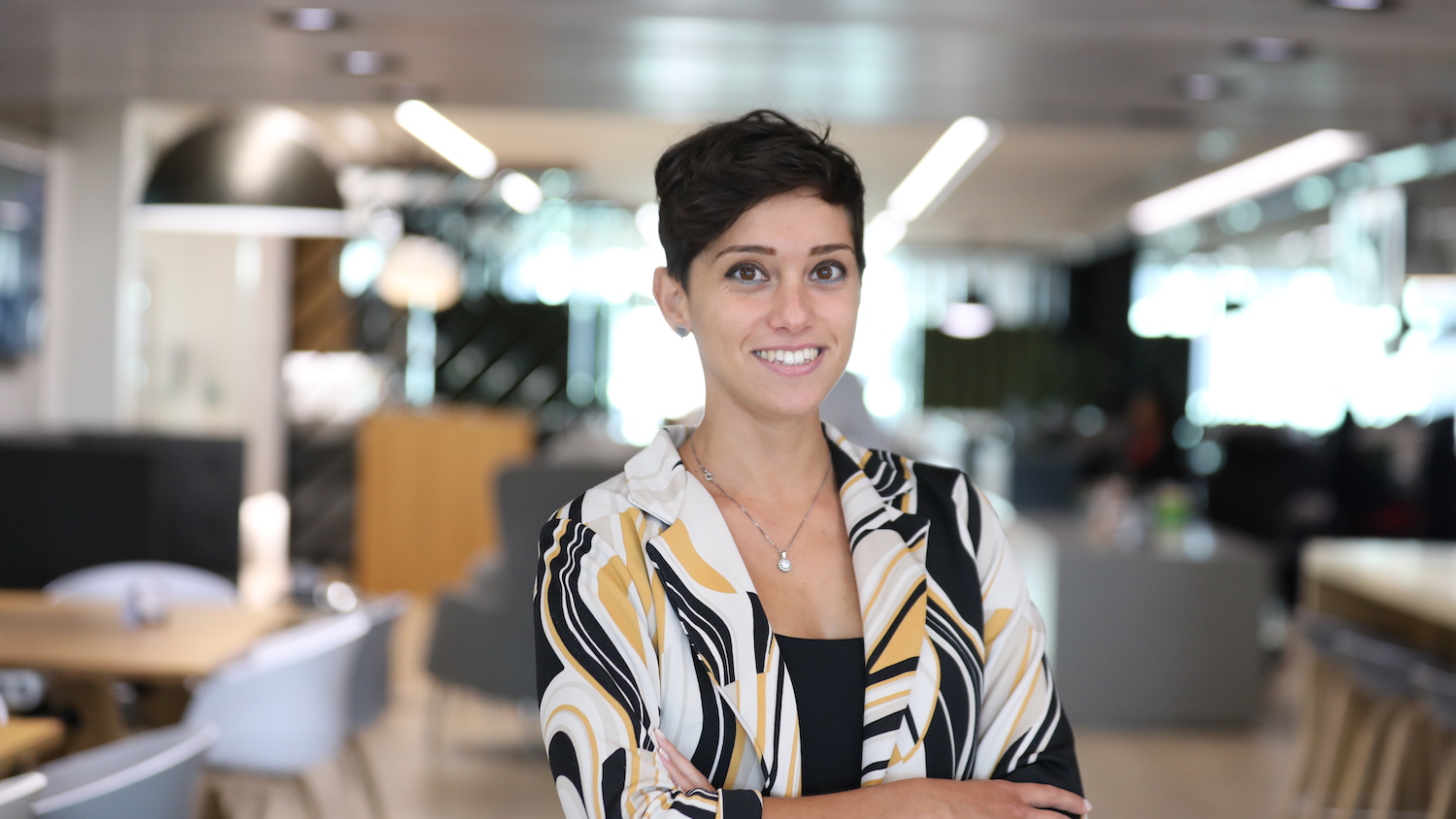 With a background in architecture and engineering, Veronica Friuli has always been interested in digital design and how it has evolved in the past few years through the use of BIM.
She is now senior digital construction manager at ISG, responsible for implementing BIM strategy and cutting-edge technologies into traditional workflows. She works alongside consultant and contractor teams to ensure the models and data being handed over are fit for use in the project FM strategy.
Friuli is also responsible for the implementation of BIM policies and procedures, ensuring successful project delivery through increased efficiencies. With a Master's degree in Architecture and Building Engineering, she is registered with the Architects Registration Board and is a Women in BIM mentor.
BIMplus: What was it that attracted you to BIM?
Veronica Friuli: I would say that the first thing that attracted me to BIM was the idea of efficiency behind this process.
At the beginning of my career, I was working for an architectural company that unfortunately didn't adopt BIM at that time and used only CAD software. I changed the way I was working there, committing myself to use BIM applications and trying to show the company the benefits of it. Although BIM is more than just Revit, I found it very efficient: how the application is used for the creation of the 3D model and how a Revit digital model creates a powerful database collecting the information through all the stages of a construction project.
"One of the biggest challenges I constantly face is the people mindset. Changing the way people think and work is the most significant task."
Veronica Friuli
What is the biggest professional challenge you have had to overcome?
BIM is a relatively new concept for some people in the construction industry and some of our clients.
While the government is enforcing BIM for publicly-funded work, clients of smaller organisations don't often make similar demands, and the smaller they are, the more they see the implementation of BIM as an expense rather than an investment.
One of the biggest challenges I constantly face is the people mindset. Changing the way people think and work is the most significant task.
In my company, my team is seen as the BIM champion. However, BIM is based on collaboration, and everyone should understand the process and be engaged in promoting it.
What can my team do to reinforce it? It is upskilling and training our clients, colleagues and our supply chain.
Having a qualified or knowledgeable in-house team definitely helps to fill the lack of widespread expertise across the business and promptly define bespoke training to accelerate learning and build confidence and competence.
Which technology in BIM and digital construction interests you the most?
Technology is taking root in the construction industry, and technological developments continue to be at the forefront of construction, as with most industries, shaping the industry's future.
Technology is evolving at an exponential speed such that, most of the time, I think it is advancing faster than the abilities of the people trying to use it.
Businesses need to keep them up to date with the latest technological trends. However, I would always state that a new technology without a person who adopts it efficiently is not worth using.
For this reason, how we change and enhance ways to work is the key to the success of all the technologies available to us nowadays.
Nonetheless, if I need to choose one of the construction technologies out there that interest me the most, I would say those that allow you to access and monitor site progress without ever being on site, automating the manual task for progress tracking.
Walking around a site without ever leaving the office or home, I have seen how these platforms helped a lot during the pandemic and made employees, who were encouraged to work from home, work efficiently and manage all the tasks without ever being on site.
"Those exciting, visionary companies that have embraced digital are allowing employees to take part and influence the future of the business."
Veronica Friuli
Moreover, applying the AI-powered trackers to the site captures means quantities of materials can be easily viewed and progress status validated.
Also, I see this as a considerable potential for clients overseas that don't necessarily need to travel on site to track project progress and site conditions.
Do your friends and family understand what you do? And if not, how do you explain it to them?
In a few words, I would say that no, they don't understand what I do. But it is true that they are not familiar with the construction industry and have never had any experience of this kind.
BIM as a career is still relatively new, but our role is already evolving fast alongside the advanced technologies and the standards in place for guiding the BIM process.
In our BIM role, we oversee the production of project information models, which contain 3D visualisations that bring together data, drawings and schedules associated with the design and construction phases of a project.
We are responsible for delivering a business's technology strategy and promoting the benefits of digital ways of working. We support the team, ensuring that projects run smoothly and project information models are delivered on time.
When I try to explain what I have just mentioned above with simple words, I usually tend to use the analogy of being a traffic officer. They coordinate the resources of the emergency services, manage traffic flow to reduce incident-related congestion and ensure it is safe and efficient, and are responsible for ensuring the safety of motorists, pedestrians, and other road users. In addition, they conduct investigations related to traffic accidents to determine causes and take action against parties responsible for the accident.
Now, instead of thinking about motorists, pedestrians and cars, imagine they are the 3D models, data and information. This analogy usually works well to solidify the concept of our role.
What advice would you give those just starting their study of BIM?
There are several routes to becoming a BIM expert. You could complete a university or college course or an apprenticeship. You should explore these routes to find the right one for you. Some of these options have specific qualification requirements. You could study for an undergraduate degree or Higher National Diploma in a relevant subject such as architecture, construction, product design, civil engineering or architectural technology or you could complete an apprenticeship. An apprenticeship with a construction company is a good way into the industry.
I come from an architectural and engineering background. To me, the adoption and understanding of BIM have been developed in the field while I was working.
Whichever route you choose, just remember that many employers are interested in people who are enthusiastic and willing to learn. Digital transformation is creating a wide range of opportunities in the construction sector, and some more will be developed and grow in the near future.
To be successful, you should be proactive and plot your roadmap. Those exciting, visionary companies that have embraced digital are allowing employees to take part and influence the future of the business.