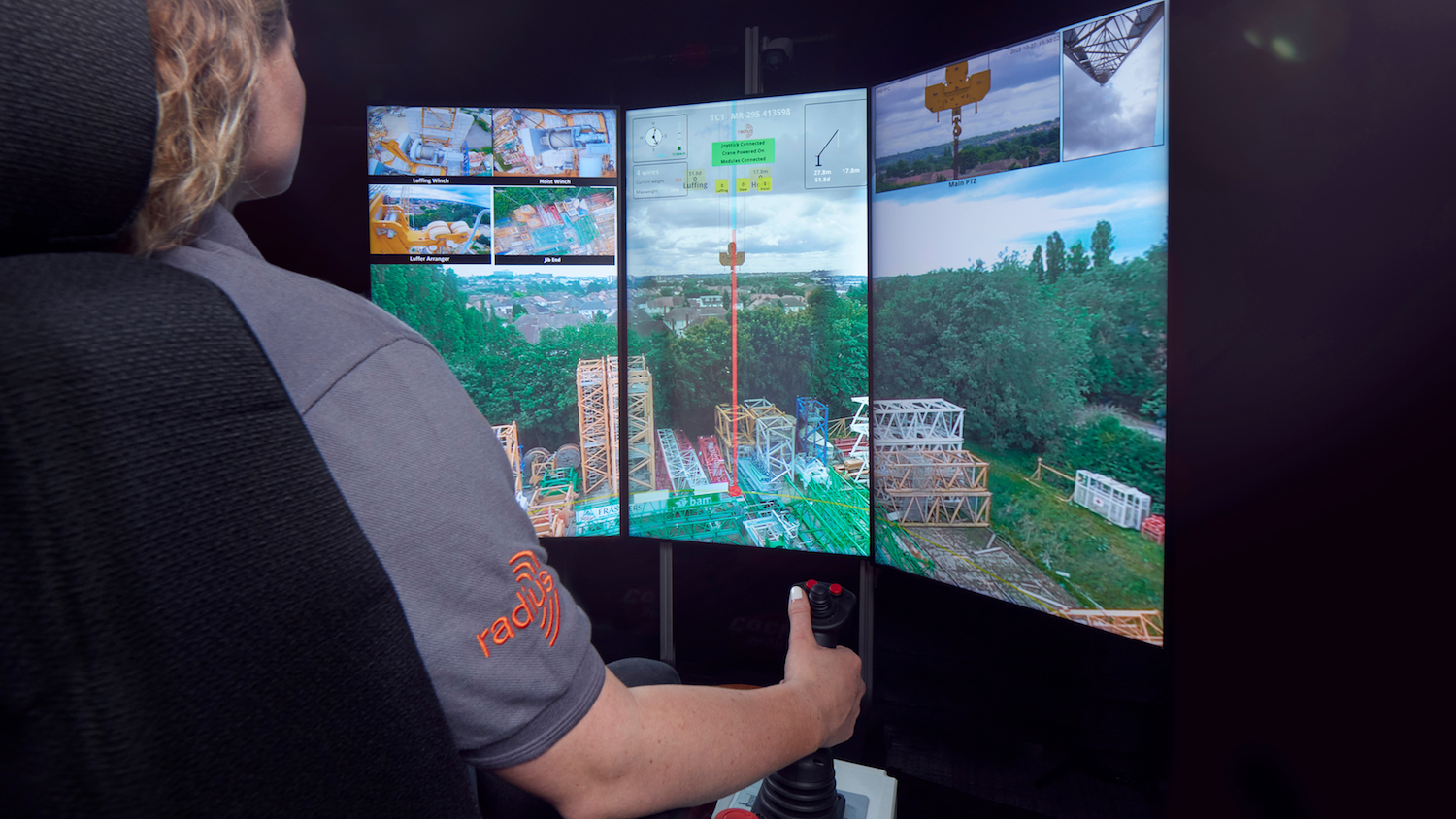 Lifting specialist Radius Group has launched remote control for tower cranes.
The approach appears to offer many benefits, not least negating the necessity for tower crane operators to climb the crane in the first place. Instead, the operator drives the crane from the relative comfort of an onsite cabin with three large panoramic screens in front of them. Radius says this opens the crane operator role to older, infirm and disabled individuals.
This approach also provides operators with an unobstructed view of the load line and the entire construction site, minimising the chances of collisions or accidents caused by limited visibility.
Radius claims the Skyline Cockpit system will typically save more than one hour a day and enables seamless crane switching on multi-crane sites in just 10 to 15 minutes. Automated data recording also allows productivity to be measured accurately and labour calculated efficiently.
Furthermore, using algorithms and machine learning, Skyline Cockpit offers intelligent assistance and analytics features. The system can predict potential risks, provide recommendations for optimal lifting techniques and optimise crane performance based on historical data. This empowers operators to maximise productivity while ensuring the highest levels of safety.
The system provides real-time data on critical factors, such as load weight, wind speed and direction, and crane height. It can also detect any tower crane discrepancies, enabling immediate preventive maintenance actions to ensure uninterrupted workflow and enhance overall equipment reliability.
Michael Fryer, managing director of Radius Group, said: "Radius Group has never been afraid to do things differently and by embracing cutting-edge technology and prioritising safety, efficiency and inclusivity, we continue to set new benchmarks and shape the future of the construction sector.
"We are very excited by the potential of Skyline Cockpit to truly revolutionise the construction industry and we are therefore extremely proud to be the first tower crane supplier in the UK to offer this pioneering innovation on live sites."