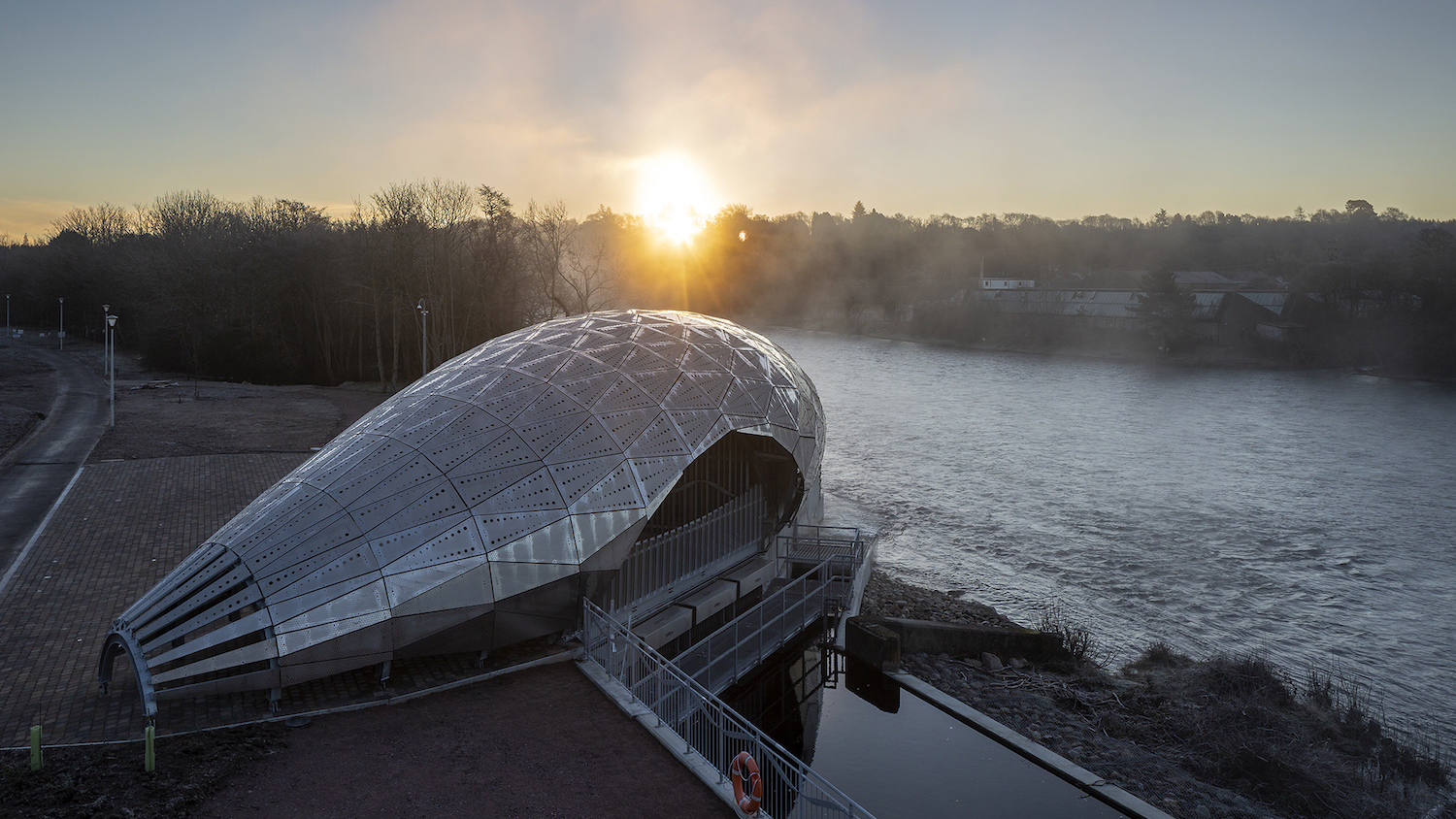 Featuring a striking canopy structure, the River Ness Hydroelectric generation project is both a geometrically complex build and also a key part of the local infrastructure. Hasson Engineering Solutions needed Trimble's Tekla Structures to bring the complex vision to life.
Located on the banks of the River Ness in Scotland, the Hydro Ness – as its name suggests – is a hydroelectric generation project, designed to generate a clean source of energy for the Highland Council. The structure itself houses a 93kW hydroelectric power twin turbine, which will generate an estimated 550,000kWh every year.
To suit the location, an architecturally striking steel canopy structure was designed to house the generators, with the initial design concept created by local artist Claire Maclean, before being developed further by Inverness architect, Les Hutt. Project developer and main contractor Hydro NI/Bradley & Company JV appointed Hasson Engineering Solutions to complete the canopy geometry definition, structural design, detailing, and fabrication model development.
Hydro Ness project team
Client: Highland Council
Architect: Leslie Hutt Architect
Contractor: HydroNI/Bradley & Company JV
Consulting engineer: Hasson Engineering Solutions
The shape of a diving salmon, a fish commonly found in the River Ness, inspired the roof canopy design. As such, some form of texture was necessary to create the illusion of scales. This was achieved through the use of thousands of circular perforations and polished swirls in the 386 faceted stainless steel cladding panels that make up the canopy structure.
Michael Hasson, director at Hasson Engineering Solutions, says: "The Hydro Ness project had a high architectural value, requiring an integrated approach to the structural and architectural design. Geometrically complex, the roof canopy structure curved on different axes. For us, it was all about finding the balance between being respectful of Claire's original design concept and delivering a high-impact look, worthy of its location beside the banks of the beautiful River Ness. All while being capable of safe and efficient fabrication and erection – quite the challenge!
"We pride ourselves on providing high-quality results and this wouldn't be possible without Trimble's 3D modelling Tekla software, which allows us to create and deliver these kinds of complex structures."
When detailing each of the unique faceted cladding panels and the thousands of perforations needed to achieve the design brief, it became clear this would have been an extremely time-consuming process, if done manually.
Hasson explains: "As a result, we decided that it would be a more efficient use of our time and resources to create custom components within the Tekla Structures software, specifically written to automate the definition and execution of countless perforations in the cladding panels.
"This was a process of using a defined algorithm to consider, analyse and interrogate each facet and proportion with a rule set, allowing for parametric definition of the perforations and full control of their size, number, and distribution within every panel.
"This unsurprisingly saved us a huge amount of time. The Tekla Structures software really is limitless in terms of its geometric capabilities – while it's great for routine detailing jobs, the software is very powerful indeed when you need to go up a few gears."
Tekla Structures was also fundamental to the success of the detailing and fabrication of the steel frame and stainless steel cladding panels. Four major openings and the roof canopy's curved form all needed to be rationalised in Tekla Structures. The complex geometry was achieved by modelling the curved ribs on a curved grid pattern, with each unique prism-shaped cladding panel then fixing to the primary roof structure. The ability to define blended circular and elliptical forms was essential, thanks to the geometric capabilities of the 3D modelling software.
Maintaining communication
Given the complexity of the Hydro Ness project, it was important that parties involved maintained a high level of communication at all times. Trimble Connect, the cloud-based collaboration platform, was used extensively.
Hasson explains: "Trimble Connect is ideal for facilitating effective coordination and collaboration, of which there was a lot on this project. No matter where everyone was, it was as if we were all in the same room together. More specifically, as an engineer and detailer, the transparency enabled by the software is especially powerful. It made it possible for me to easily and visually present all my reasoning and the decision-making process behind each choice, as well as showing a great level of detail – right down to the individual fixings and fabrication details.
"This path of communication also worked vice versa, with the client, Highland Council, architect and fabricator also able to use Trimble Connect to provide feedback. In fact, this relationship between the structural engineer and steel fabricator is something that I view as being especially important and was key on the Hydro Ness project.
"At the end of the day, someone has to fabricate the structure that we've designed and engineered, and so communicating and providing a clear design intent is critical. As engineers, we have to take and deliver true responsibility in giving fabricators a finished product. Tekla Structures enables you to create and deliver a fabrication-ready model – a model that the fabricator can then work from with minimal further input or tweaking."
Demonstrating buildability
Hasson concludes: "When it comes to architecturally and geometrically complex projects, such as the Hydro Ness, BIM is essential. You are able to clearly express your design intent in a visual and highly detailed manner, as well as demonstrate the buildability of the structure.
"Not having to wrestle with 2D drawings to achieve such a complex 3D form, and making use of parametric capabilities and custom components, frees up more of your time and thinking for other things, being able to focus more on how to make the structure as easy as possible to fabricate and as safe as possible to erect on site."
Hydro Ness is now complete and is generating clean energy for the Highland Council, as well as providing a striking architectural landmark for the region.