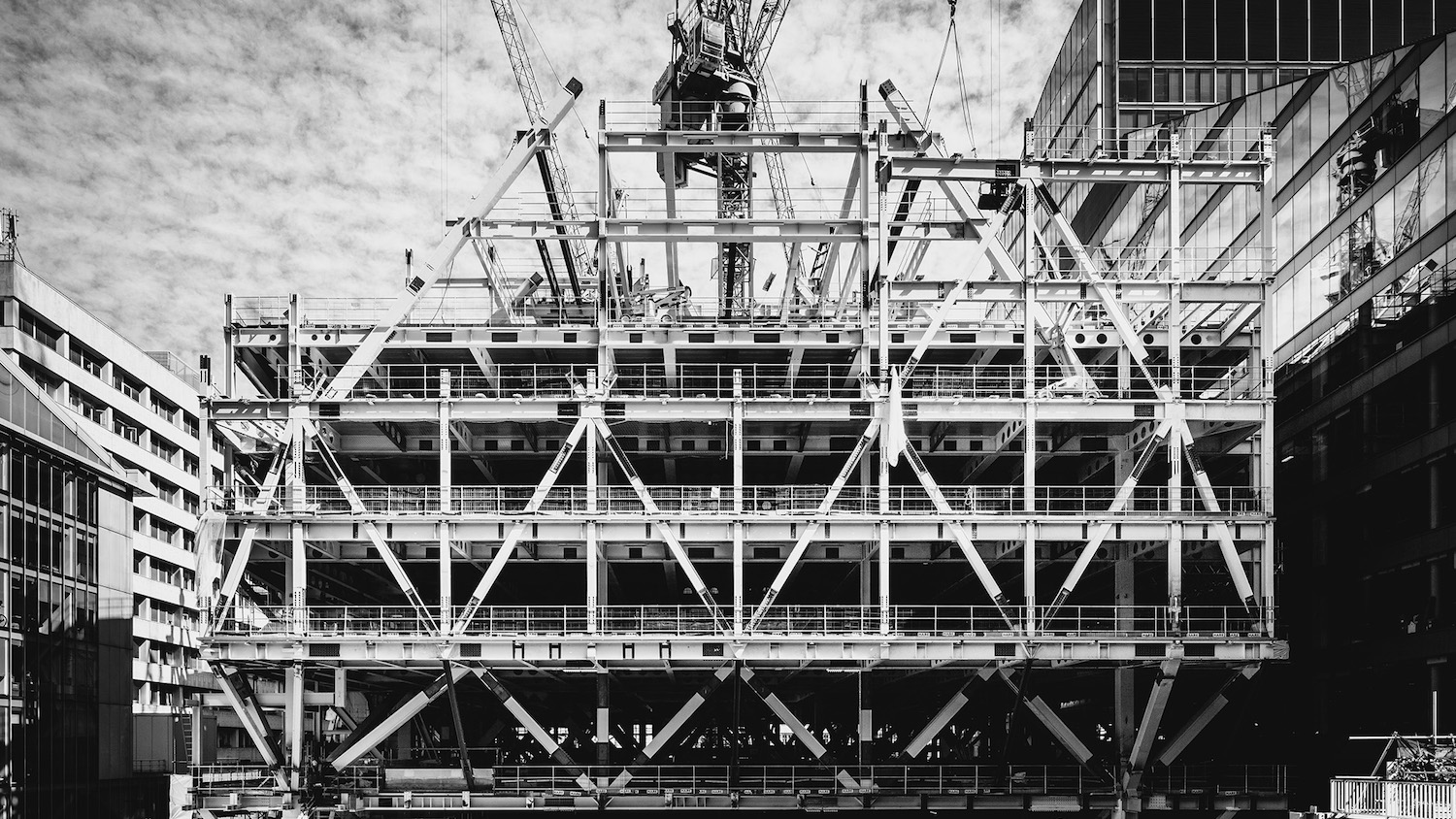 Featuring an architecturally detailed exposed frame, Landsec's 21 Moorfields commercial development in London has steel at its heart. To meet the project's complexity, close attention to detail and effective coordination was a necessity. So steel frame specialist William Hare used Trimble's BIM software as a key part of its delivery.
Located directly above London's Moorgate Station, the new 21 Moorfields is a 17-storey commercial development, offering 60,000 sq m of office space. Reflecting the common themes of existing railway architecture, exposed steelwork was a key component of the architectural brief, featuring major trusses and structural arches.
Main contractor Sir Robert McAlpine appointed William Hare to deliver the steel detailing, fabrication, erection, temporary works and connection design – a mammoth undertaking.
Daniel Fenn, engineering manager at William Hare, explains: "3D modelling and the BIM discipline is a key part of our business offering. On projects like 21 Moorfields, the importance of BIM goes far beyond just clash detection – it becomes a central collaboration tool."
Project team: 21 Moorfields
Client: Landsec
Consulting engineer: Robert Bird Group
Architect: Wilkinson Eyre
Main contractor: Sir Robert McAlpine
Steel frame contractor: William Hare
The project required a large amount of complex temporary works to enable the over-station build of 21 Moorfields and facilitate the construction of eight major trusses and six structural arches. Located above the busy Moorgate Station, with the new building essentially built on pile foundations and stilts, it was essential to ensure the existing station roof was not overloaded by the ongoing construction works. As such, the new development needed to be temporarily supported from underneath.
Fenn explains: "Overall, the project required around 1,000t of temporary works. Working with members of the design team, we modelled everything in 3D within Tekla Structures: the relevant existing station structure, the temporary steelwork and the new permanent steelwork. The ability to visualise it all within the one model certainly made life a lot easier for us.
"When it comes to temporary works, the design is often heavily dependent on the permanent works design – and vice versa. For example, the team had to consider the extensive temporary works scheme alongside permanent steelwork connections and features, vehicular access zones and site obstructions.
"The 3D modelling environment helped to facilitate the effective coordination between it all, enabling us to consider and visualise the temporary alongside the permanent, and create the optimum temporary works design. We used Tekla Structural Designer and its links to the modelling software to quickly assess the evolving temporary works schemes as they were refined."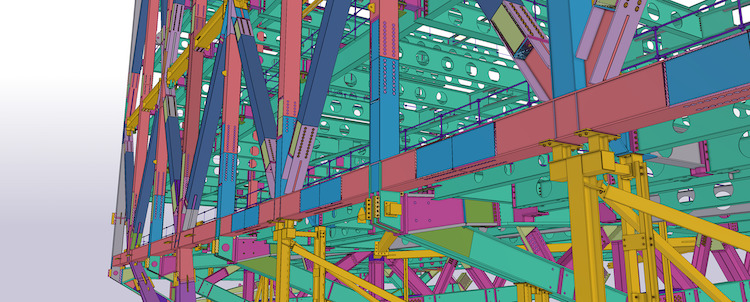 Visualising the proposed design
Moving away from the temporary works, the permanent structural steelwork presented just as much of a challenge, with the 21 Moorfields project being highly architecturally sensitive. Using BIM software, the William Hare team could quickly detail and portray specific steel elements and connections, before then using this visual model to host workshops with the architect to discuss and refine.
Fenn continues: "We were really able to visualise and see the proposed design – vital on an architectural project like this, where the steelwork forms such an important part of the overall building's appearance. This worked on both a micro- and macro-scale: being able to zoom out for an overview of the model and view the context, but then also zoom into the smallest and most intricate detail.
"21 Moorfields had some incredibly complex geometry and steel connections. Without Tekla Structures and its constructible modelling capabilities, it really would have been difficult to visualise and get your head around it."
Digital model drives fabrication
Moving on to fabrication, here the data from the digital model helped to drive the fabrication and production process, informing the regular cutting, drilling and profiling. William Hare has also been finding ways to push this digital data integration even further, as Fenn explains: "We're fortunate to have access to smart Zeman robotic machinery at our Scarborough facility. With this, we're able to get pieces of fabricated steel that have had no physical human input following the detailing stage, relying solely on the data transfer from model to machine.
"However, as with all automation, the emphasis is on balance – while we use smart robotic machinery for the more standardised elements, we use our skilled and experienced fabricators for the more complex aspects.
"Data from the 3D model can also be used during our surveying of assemblies during and post-production with a Total Station. Used as a means of quality assurance and control, we're able to survey the completed assembly and compare it with the model data. It's a far more efficient process than having someone with a tape measure manually checking the dimensions."
Completion is scheduled for early 2023.