McBains used BIM and cloud-based coordination strategies to address the unique design challenges on an intricate refurbishment and redevelopment of an office building in a dense, conservation area in London.
48-50 St John Street in Farringdon is a mid-terraced property comprised of a 1950s-fronted building that links at lower ground, ground and first floor levels to a Victorian distillery building at the rear.
Situated within the heart of London's world-renowned tech belt, the neighbourhood has become one of Europe's most exciting office markets, attracting occupiers from the rapidly growing tech and creative sectors.
The plot is approximately 0.1ha and is surrounded by a plethora of amenities, all within a 500m radius.
48-50 St John Street project team
Client: Patrizia St John
Architect/designer: McBains
Project value: £11m
McBains is lead consultant for architecture, structures and civils, MEP, sustainability, cost, project management and BIM appointed on the project. It has been appointed to develop the brief for redeveloping the building from an existing commercial mix of different offices o a high-quality contemporary office space that encourages collaboration between a variety of tenants. The existing offices were dated, needed modernising and were non-compliant with building regulations and energy efficiency.
reconfiguration of the existing building and its vertical circulation, to maximise floorspace and value;
improving the quality of the office space and creating attractive, flexible, healthy, and innovative spaces;
achieving BREEAM 'Excellent', with an aspiration of an 'Outstanding' rated scheme;
achieving Wellness accreditation; and
targeting a net zero carbon building.
To retain, restore and improve the existing building and maximise floor space and value for the client involved:
extending the ground floor internal space to the building line, activating the frontage and improving accessibility;
providing a range of flexible shared collaboration spaces in the common areas;
erecting a three-storey infill extension to the rear of the 1950s block;
enclosing the ground floor courtyard space with a glass roof, creating a shared collaboration space; and
installing one additional floor above the 1950s building to provide additional (Class E1) office space.
When complete, the property will consist of 1,815sq m of office and showroom space. The offices will account for 1,058sq m and are arranged over first to third floors. The first floor extends to the rear building where the Victorian warehouse's original pitched roof with roof lights and an impressive floor to ceiling height creates a bright floor plate that opens out onto a terrace. The design team also used interactive QR codes/panoramas to view internal spaces and terrace areas for the new commercial floor.
The project site is extremely constrained geographically. It is also located within the Clerkenwell Green Conservation Area, so it has several Grade I and Grade II and locally listed buildings bounding it. The building is within the London View Management Framework, in particular the protected vista from Alexandra Palace to St Paul's Cathedral, along with other local borough viewing corridors, which affected the form and massing of the scheme.
In addition, the basement contains a UK Power Networks substation serving the wider locale that needed to be retained. Meanwhile, above sits a complex structural and heritage feature labyrinth, which restricted the flexibility of the design.
Therefore, the main challenge of this project is the site itself, limited both vertically and horizontally by infrastructure and planning guidelines.
It was ascertained early on that a full scan-to-BIM survey was necessary (external and internal) to establish integrity and accuracy of the proposal while mitigating on-site factors. The BIM survey 3D model allowed the design team to dissect the building and understand how much of it can be re-used and retained so as to minimise wastage and add to the sustainability aspirations.
The process also provided the architectural, structural and MEP teams with a head-start, which would not be possible otherwise without the use of drone and 3D scanning technology.
A point cloud 3D scan survey was completed in tandem with an intrusive survey to dissect the building's structural elements and service zones.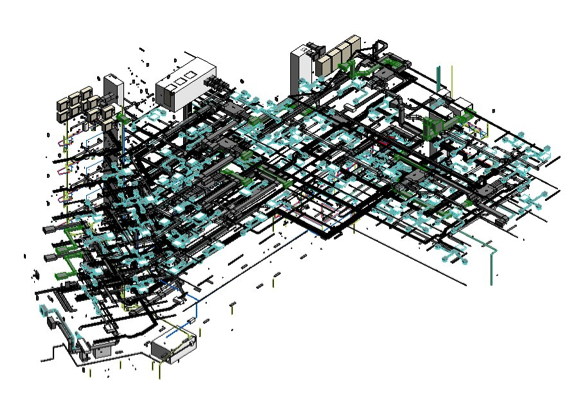 McBains team converted the radar cross-section data with Recap and subsequently built into a series of components and geometry within Autodesk Revit with phasing data attached.
The site also has a varied and undulating roof line – a result of incremental change over the years from the original medieval street pattern. This made it tricky to capture with conventional methods. Here, BIM scanning with a drone was used to capture not only the roof form of the asset itself, but also the surrounding context, to Level of Detail 3. This picked up parapets, pop-ups, balustrading and street furniture too. 
Devan Mistry, associate director strategic BIM lead at McBains, says: "Our work with digital capturing in the form of scan-to-BIM and drone surveys have allowed the design team to accurately depict a 3D internal and external model of the building and its context. This has dramatically increased the speed and efficiency of interrogation and design.
"For example, the site is characterised by inefficient floor plates and irregular space planning modules for modern tenancies and occupation. By directly making use of the scan-to-BIM survey model, our design teams were able to rapidly sift the retained elements from those that could be adjusted. This resulted in design optimisation and optioneering early on with regards to floor capacity studies and layout options for tenants."
McBains' implementation of 3D and 4D BIM at the start of the project programme allowed for the build-up and layering of information within elements to in turn leverage the model for 5D and 6D.
McBains' cost consultants have managed to schedule out and quantify building categories. These have been linked to a dynamic cost plan using Causeway BIMMeasure. In addition, the BIM model has been fully prepared for COBie input. This will speed up the process of linking the asset information to an FM system at handover. The over-arching vision is a fully functional digital twin of the asset to manage various daily activities, repairs and maintenance and even a potential link to an IoT solution.
"By having an excellent digital base case to work with, we have managed to two-stage clash the site – existing clashes/issues and subsequent proposed intervention and design clash coordination," says Mistry.
Devan also notes that automated clash management via BIMcollab with its Smart Issues feature and analysing models with its Smart Views feature is helping McBains save time and money by creating rulesets for clashes between disciplines that can simply be updated fortnightly at the click of a button.
"The key issue was collaboration and true, live communication – BIMcollab has allowed McBains to manage this workflow seamlessly. BIMcollab acts as a single source of truth on the status of clashes and issues. This in turn has removed the need for manual emails, comments and spreadsheets.
"Overall, it has ensured that project team members communicate clearly and openly about their projects, regardless of what stage they are in and how inconsistent they believe their modelling quality is," he concludes.