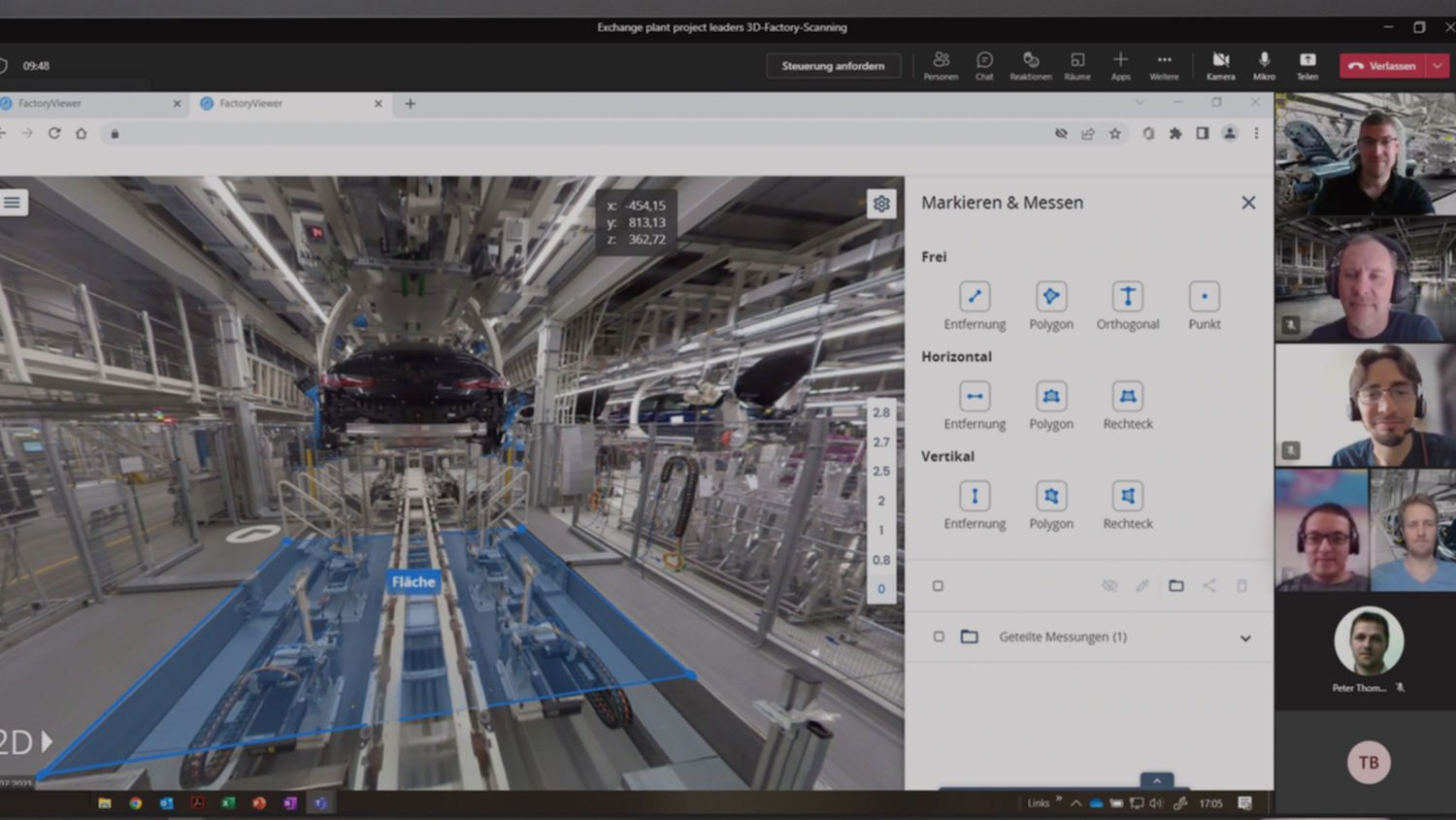 Automotive giant BMW plans to have digital scans of all of its vehicle plants worldwide completed by early 2023 as part of its digital twin plans.
To digitalise its existing plants, BMW has turned to site scanning specialist NavVis. BMW is using NavVis's mobile 3D laser scanners to create photo-realistic panoramic images, floorplans and scatter plots of all its plants, including all building structures, facilities and outdoor areas.
Since November 2020, around 4m sq m of indoor space and 9m sq m of outdoor space at BMW plants have been scanned.
Around 15,000 BMW employees are already working with this data, using a cloud-based platform, BMW Factory Viewer (based on NavVis's IVION Enterprise platform, pat of its so-called Digital Factory Solution). Via the viewer, existing plants can be virtually inspected, specific points in production found via points of interest, and precise measurements carried out.
The system also allows individual sections of the 3D scans to be cut out and made available to external suppliers. This saves time and effort during production planning, improves collaboration with internal and external interfaces and eliminates planning errors, BMW claims.
Michele Melchiorre, head of production system, planning, tool shop and plant construction at the BMW Group, says: "This opens up entirely new possibilities for us to implement both extensive new planning and smaller-scale remodelling of existing structures in a highly efficient, precise and flexible manner."
Virtual planning is a core element in BMW's strategic vision for the digitalisation of production: the so-called iFACTORY. BMW's aim is to make planning and simulation of all processes and the entire production system 100% virtual. "Production planning can integrate the virtual product into the virtual factory at an early stage. This reduces planning effort and capital expenditure and, at the same time, ensures processes are more efficient and more stable during ramp-up," explains Melchiorre.
The 3D scanning technology also allows both smaller and larger-scale remodelling projects at BMW plants to be transferred into the digital world, using the so-called re-scan process. BMW is developing its own autonomous scanning robots to keep the digital master data current, thus avoiding the need for continuing human resource. It is using in-house solutions, such as the smart transport robot (below).
Twinning future production plants
And it's not just about existing facilities: for new production plants, BMW will work with NVIDIA and its Omniverse software platform. "We are entering a new dimension of factory planning," says Melchiorre. This means planners can conduct a virtual walk-through of BMW plants at any time, from anywhere. They can develop production systems together in the simulated world, compare best practices and share information quickly within the network.
"This forms the basis for planning and developing our new vehicle plant in Debrecen in Hungary," continues Melchiorre. "Today, around three years before the series launch, we are already able to simulate core processes at our future plant virtually."
BMW states: "Digital twins aree already available for the US plant in Spartanburg, the main plant in Munich and Plant Regensburg. Plants Dingolfing, Leipzig, and Tiexi in China will also be captured by September of this year. By spring of 2023, digital data will also be available for the plants in Mexico, South Africa, the UK and Dadong, China."
Melchiorre concludes: "Partnerships like those with NVIDIA and NavVis allow us to combine our pioneering spirit and process know-how with cutting-edge technologies."
NavVis chief executive Dr Felix Reinshagen adds: "We are very proud to support BMW Group in the digitalisation of its production network. The NavVis Digital Factory Solution revolutionises application areas of the digital factory with the ability to regularly update scans and to synchronise reality and the digital world. Our digital mapping of production environments lays the foundation for the virtual factory of the future!"