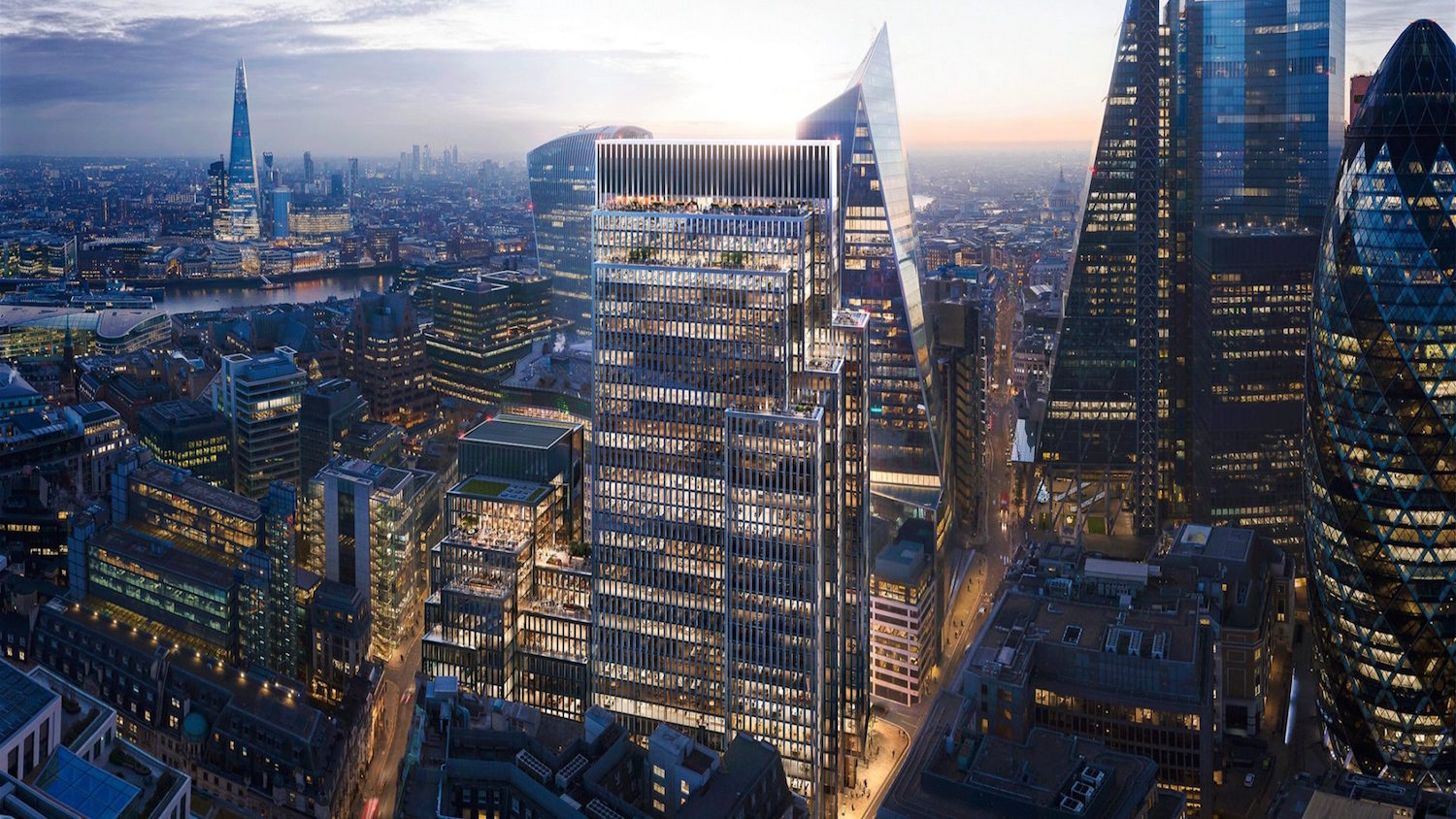 A significant delay to starting on site allowed Mace and Glider to turn what would have been simply a challenging project in the City into a digital exemplar.
Mace won the tender to be the principal contractor on TH Real Estate's 40 Leadenhall Street office scheme in the City of London in 2015. Delays relating to the original client, the state of the economy, and a new client, M&G Real Estate, taking ownership of the scheme meant the contractor didn't get to start on site until the day before the covid lockdown started in 2020.
Designed by Make Architects to echo classic North American skyscraper designs, the project features two stepped towers, the northern at 34 storeys and the southern at 14 storeys. Together, the two towers create more than 80,000 sq m of office space and 7,000 sq m of retail and amenity space. Faced with the usual challenges of building on a tight footprint, Mace has leaned heavily on offsite construction, with prefabrication from its MEP business.
40 Leadenhall Street project team
Client: M&G Real Estate
Development manager: Nuveen
Architect: Make Architects
Principal contractor: Mace
Asset information management and handover consultant: Glider
Smart building consultant: Arcadis
The long delay to starting on site presented an unexpected benefit: Mace's use of digital technology had moved on significantly since it had won the tender.
"Some of the technology we're using now, we weren't using at the time," explains Max Kidwai, BIM (digital) construction lead and BIM lead and project information manager at Mace for 40 Leadenhall Street. "Certainly there are workflows and processes that we've now got in place that we didn't have then. There's a lot more structured data, which will help the client when they insure the building, and when they come to sell it, the client will have a more valuable asset."
During the delay period, Mace took the decision that the project should be an exemplar of its use of digital technologies and processes, and secured the client's buy-in.
Kidwai explains: "Initially our requirements weren't very advanced: a coordinated model with some minor bits of model data. But we took the client through the additional technology we wanted to introduce to the project, and we got the green light. We have been taking the client on a journey. As they've started to see the benefits of the digital technology, they've developed more of a digital mindset."
Indeed, adding further to the challenges, the client decided that it wanted the project to be a market-leading smart building once construction was already underway – more of that later.
From construction to operations
In late 2021, Mace appointed Glider (along with its digital information management platform for the entire lifecycle of a built asset, GliderBIM) as the asset information management and handover consultant. Glider MD Nick Hutchinson explains: "We were selected because not only could we deliver the compliant asset information model (with the tools, experience and resources to do so), but we also brought added value in our experience of smart building implementation and digital twin delivery."
Glider has a team of six working on Leadenhall. Given that all the trades (60 or so in total) on the project are using models, it's no surprise when Hutchinson reveals "the quantity of BIM models we're seeing is pretty staggering: we're talking about hundreds of models, each containing a certain level of data".
He explains the team's role: "They agree on all the specific requirements that will apply to the handover information, then create the platform that contains all the data schemas, data templates and document templates. We then coordinate the production, review and validation of that information right across the supply chain for the designers and all of the key trade contractors and suppliers, who are then responsible for delivering this information that describes the facility, its operation, and maintenance."
Part of Glider's role is to engage with the end-user's team, including working with their smart building consultant, Arcadis.
Hutchinson says: "Any smart building or intelligent building needs some core building blocks and one of those core building blocks is a comprehensive structured asset information model. If you take an IoT network that's got lots of different devices on it, you can do that in two ways. You can do it with lots of very specific individual systems that are reporting and monitoring specific things individually, and you have lots of applications to deliver visibility of, or you can consolidate all of that performance data into a single building operating system that you then build data analytics and visualisations upon via GliderBIM."
It's a challenging project made more so for Glider because the business was brought in when the design was locked down and construction was already underway. But Hutchinson and his team were undaunted, focusing on the need for consistency in the data – delivered by asset naming conventions, for example.
"There are a lot of protocols that are starting to emerge now in the IoT/smart building domain that we've got a good understanding of. More importantly, our software can be configured to deal with that type of data. It's also about understanding the relationships between things in the building and how you want to express that relationship and record that relationship in the database. That's something that's quite novel and emerging as a new art form."
To fulfil Mace's desire for the project to be a digital exemplar, the contractor required all the trades to work with the federated model.
"Each of the designers and trades is providing three file formats for every model that they give," Kidwai states. "For example, if it's just concrete slabs, they will give us a Navisworks file, an IFC file and a Revit file. We've gone a bit further and ensured that all our trades – block work, drylining, joinery, fire stopping, all the trades – are given those models as well.
"We've been using Navisworks to create the federated model and do clash detection. Then we've used Solibri as well to do rule checking (door swings, fire-stopping distances). We're using BIMCollab to manage and catalogue the clashes or issues that we have with the model. We then have a Microsoft PowerBI dashboard, which we use to spot trends."
Managing up and down the chain
This digital ecosystem allows Mace to manage the supply chain and the project stakeholders. "I share the same interactive Power BI dashboards (and a PDF for those not fully comfortable with the digital approach) on a weekly basis with all of the project team and relevant stakeholders," Kidwai explains.
As a result of covid's operational impacts, Mace turned to BIM360 to maintain collaborative working across the project team. "Some of the individual teams didn't have connected servers where they could collaboratively work on a Revit model. With an eye on security, Autodesk BIM360 Docs is a safe common data environment for people to share work-in-progress models," says Kidwai. "And it's worked really well because you can actually live link in with other people's Revit models, so as they make changes, it makes changes in your Revit files."
Bringing the supply chain along on the digital journey was important. "It's been a collaborative approach. We've given training to our supply chain. We've brought them into coordination workshops, which they might not have done before, with the designers. They've had the opportunity to bring their expertise to bear, expertise the designers may not have," Kidwai says.
Mace is using the Disperse platform, which delivers 360-degree photos, to monitor project progress. The walk round to take the photos takes place each Friday. Kidwai has used the output in coordination workshops, checking on whether clashes have been resolved or not. It's being used on an exceptional reporting basis. "We're setting the photography against our programme – it gives us another set of eyes and highlights areas where we expected work to happen but hasn't. That's actually more key than how far something has progressed."
Mace is also using Trimble Connect for laser scanning. Kidwai explains: "We've got a team going out laser scanning all the time, and then checking the tolerances of the design model against what's been built, and flagging that up immediately to see if anything is out of tolerance, which is really important for Mace MEP and the prefabricated modules."
Mace MEP's modules feature QR codes that allow for tagging and tracking via BIM360. Once the building is in operation, its maintenance team will be able to scan those codes and see all the data collected during design and construction.
Reflecting on progress to date, Kidwai highlights the biggest win: "Bringing the client into the digital space. Indeed, not just the client, but the whole team, the trades, bringing them all on a digital journey."
And that means the classic disconnect between the client's commissioning arm and its operational arm (the data collected in design and construction being not quite the information or format wanted by the operational team) is addressed, Kidwai adds. "It means the asset information model doesn't become redundant: with the Glider platform, it's reborn as a gateway to information." Mace is due to complete the construction later this year, but for Glider, the work is set to continue beyond that.